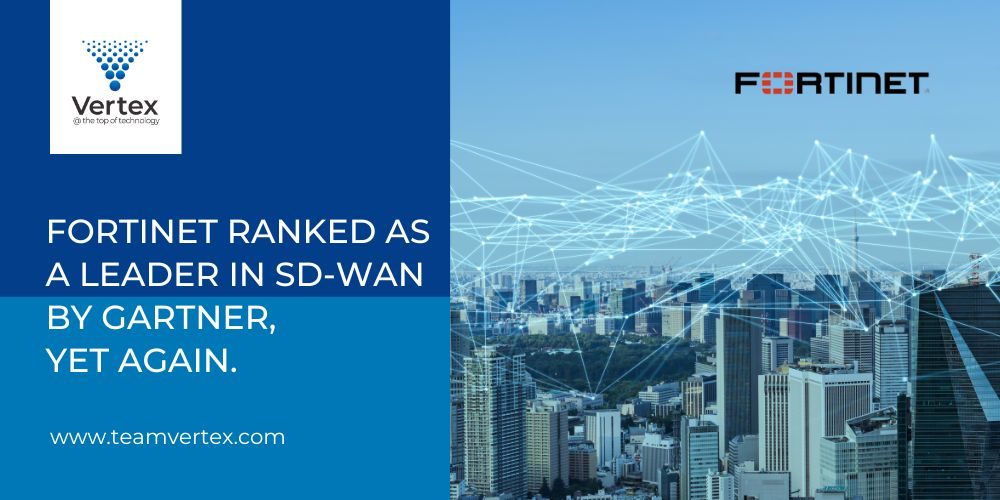 Fortinet ranked as a leader in SD-WAN by Gartner, yet again.
Fortinet has been recognized as a leader for Fortinet Secure SD-WAN for the third year in a row, and for the second year in a row, Fortinet has been placed highest in the quadrant for the ability to execute, consistently receiving praise for the comprehensive vision.
The SASE solution is driven by a single operating system called FortiOS to enable work-from-anywhere, and Fortinet was the first provider to combine SD-WAN and security in one package.
Fortinet Secure SD-WAN differentiates itself from the competition with the addition of integrations with Universal ZTNA for secure application connectivity and AIOps for better user experience. "We feel that Fortinet's capacity to pioneer market-leading innovations that integrate networking and security and offer solutions that serve as the cornerstone of network transformation is demonstrated by our placement as a leader in the 2022 Gartner Magic Quadrant for SD-WAN". — John Maddison, Fortinet's EVP of Products and CMO.
Organizations all around the world rely on Fortinet Protect SD-WAN as an essential tool to transform and secure the WAN due to its fast-expanding SD-WAN customer base. Fortinet continues to adapt the solution in order to help businesses, provide users with an enhanced experience, simplify architecture with accelerated security and networking convergence for both on-premise and cloud-delivered environments, and achieve operational efficiencies across all WAN and cloud edges.
Fortinet Secure SD-WAN was created to manage modern complexity and threat exposure to meet clients' key business needs. It is intended to develop over time in order to future-proof investments and support work-from-anywhere as clients embrace a digital-first journey.
The following advantages are provided by the solution:
1. Supports the seamless integration of SD-WAN and AI-powered security utilizing FortiOS, a unified, standardized operating system.
2. Supports work-from-anywhere via SD-WAN and ZTNA integration. With Fortinet, enterprise-grade security for traffic inspection and protection, SD-WAN for connectivity, ZTNA for secure access, all of these features can be configured, coordinated, and controlled from a single centralized panel.
3. By allowing safe, high-performance hybrid and multi-cloud connectivity, an organization can move faster towards becoming a digital-first organization along with a smooth transition to SASE.
4. Makes it possible to upgrade to a secure SD-branch with integrated network (LAN, WLAN, WWAN) and security (NGFW) components on a small, flexible platform with unified management, which speeds up implementation and streamlines network architecture.
5. Enables the transition to 5G by maintaining a secure and stable wireless WAN. As 4G/5G connectivity takes over as the main branch WAN link in branches of all shapes and sizes, it is thus critical that the connections should be reliable and secure. To do this, Fortinet offers seamless integration with SD-WAN and NGFW security services in a single management console. As a result, wireless WAN communications are safe, automated, and QoE-enhanced thanks to uniform regulations.
6. Adds additional capabilities with AIOps and Digital Experience Monitoring (DEM) to improve IT and user experience.
Wish to learn more? Get in touch with our experts. Contact us here
About us
Vertex Techno Solutions (B) Pvt Ltd is a multi-award winning pioneer in the technology infrastructure solutions and services domain with its roots running deep into the IT industry for nearly 30 years.
Vertex offers top-notch enterprise and end-consumer IT Infrastructure & Computing Solutions & Services at competitive prices.
We have helped improve, transform and grow companies across multiple verticals with its industry & technology expertise and unparalleled support services.
Source: fortinet, techcentral, zanewslive